Friday, Sep 14, 2018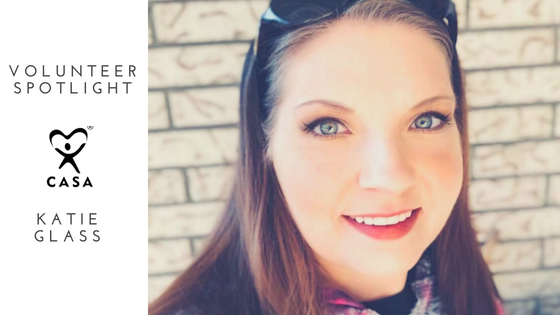 ---
We make a living by what we get, but we make a life by what we give. - Winston Churchill
---
As a wife, step-mother, and full-time employee, Katie Glass had more than enough to keep her busy, but she wanted to do more. Katie completed the CASA training and became an advocate in August 2017. In her short time as a CASA, Katie has served five children on two separate cases. Many would say that the children were lucky to have such a wonderful volunteer; Katie would say that she is the lucky one. We got a chance to ask Katie a few questions about herself and her experience as a CASA volunteer. Here is what she had to say.

Tell us a little more about yourself.
I have lived in the Muskogee area my entire life and come from an extremely large family that includes 9 siblings. When I married my husband, Aaron, I became a step-mom to two wonderful kids; Tyler (15) and Rachael (12). I have been employed at Holloway, Updike, and Bellen (HUB) Engineers since 2014 and enjoy spending my free time with my family, reading, cooking and learning new things.

What are your thoughts on being a CASA volunteer?
Being a CASA volunteer is complex. It can be extremely challenging and be gratifying all at the same time. There's a joy that comes from knowing that you are making an impact in a child's life, an empathy and compassion that you show for the children that you are blessed to get to form bonds with, and the pleasure of supporting a great organization.

What surprised you the most about volunteering with CASA?
I was really surprised to learn the level of need for CASA volunteers versus the number of volunteers currently available.

How have the children you have worked with impacted your life?
Initially, when I became a CASA volunteer, I thought that I would be able to merge my immense love of children with the ability to have a positive influence in changing a child's future. I never thought about the impact that it would have on my own life. Working with these children has taught me about the importance of building relationships and making connections. It has also taught me to be more flexible because every day is going to be different.

Have you had any cases that have really stuck with you?
Definitely! Becoming more aware of the different types of situations that these children have already had to endure really puts things into perspective. It is now the driving force that pushes me to work that much harder to ensure that their voices are being heard, their best interests are being truly considered, and that they do not continue to be a victim of circumstance.

What is your advice for a new volunteer or someone considering CASA?
You will encounter some challenges and a few bumps in the road along the way. Stay focused on the bigger picture and have some patience! Put yourself in the child's shoes and think about what they are dealing with. Most of these kids are constantly facing changes from their placement homes and foster parents, to their schools, social workers, and therapists. It is very comforting for them to know that they can always count on you. That you are always going to be in their corner fighting for them.