Monday, Dec 13, 2021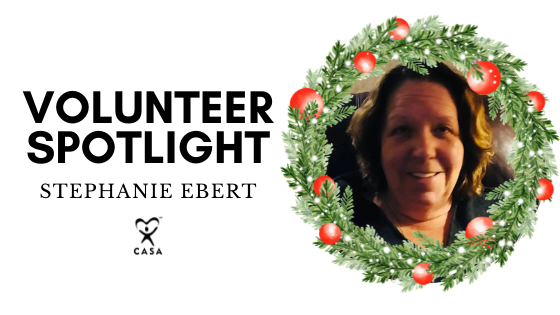 Stephanie Ebert has a heart of gold. She gives of herself freely and loves her community. Stephanie has been a CASA volunteer for 6 years. In that time, she has assisted and served on 18 cases advocating for 52 children. We had the opportunity to sit down with Stephanie and ask her a few questions about her experiences as a CASA volunteer. Here is what she had to say.
Tell us about yourself.
I'm married to my best friend, Craig. I have three adult sons who are all married to amazing women. Two live in Minnesota and one in Japan. I have two of the most adorable grandkids in the world! I work as a therapeutic pedicurist on sore, tired feet. Anyone can polish your toes, I can make you feel better.
How did you first hear about and get involved with CASA?
A dear friend suggested I look into CASA as a great way to help families.
What is it like to be a CASA volunteer?
I love being a CASA volunteer and feel like I bring something to the table in most of the cases I have worked. Being a parent and former foster parent, I can relate to both the parents and the kids and sometimes just be a friendly voice when things get really rough.
What would you tell someone considering becoming a CASA volunteer?
I would tell anyone that is considering becoming a CASA volunteer to do it. It is a wonderful opportunity to assist families in need, not just children, but the whole family.
What has surprised you the most about volunteering with CASA?
What has surprised me the most about volunteering with CASA is how much it has made me aware of how desperately we need more and better mental health services and facilities for children and adults. It has made me want to do more to address this issue and focus on what can be done to make it better for the children and families we serve.
Have you had any cases that have really stuck out to you? If so, why?
All of my cases have been memorable, but some stand out more than others. In a failure to thrive case it became very apparent that parents had done their best, but the child was allergic to most formulas. The child was returned home. Much later, I spotted this little blond kiddo rocketing his way towards me in the grocery store. He wrapped his arms around me and just hugged me. My heart melted that he remembered me and wanted to say hi all those years later.
What is the most gratifying/self-rewarding experience you've had as a volunteer?
In that same case the little boy's dad said, "We really want to thank you for what you did on our case. If it wasn't for you and the social worker I don't know if we would still be together as a family." I sat in my car after leaving the store and bawled.
How have the children you worked with impacted your life?
The children I have worked with have impacted me by showing me how important family is, even when it is not perfect.
Any advice for a new volunteer?
One thing I have learned as a CASA volunteer is that you need to go into every case with an open mind. Sometimes it is much harder to find the good than to see the bad, but with an open mind we can really help change a family's future.
More CASA volunteers, like Stephanie, are needed to advocate for children who enter the child welfare system. Volunteers who will help to ensure these children have the best opportunities to thrive. Are you ready to help? Volunteer today!