Saturday, Jul 10, 2021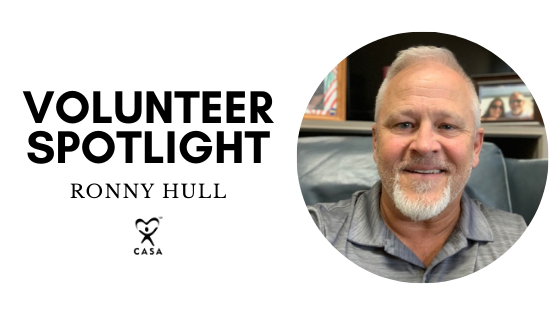 Ronny Hull is the perfect example of what a CASA volunteer is. He is caring, kind, and dedicated to the children that he serves. In the year and a half that Ronny has volunteered with CASA he has advocated on 3 cases, speaking up for the needs and interests of 9 children. We had a chance to sit down with Ronny to ask him a few questions about his experience as a CASA volunteer. Here is what he had to say:
Tell us a little more about yourself.
I am lucky enough to be married to my favorite person in the world, Tina, for 27 years and counting. I am a Senior Network Infrastructure Project Manager in the healthcare industry and love what I do. As I get older I find that my biggest goals in life are to live long, be healthy, have people I am loved by and people that I love in my life, and to be happy! I am the guy that thinks college sports are better than pro sports. I love MMA and golf, but don't get to spend as much time enjoying them as I'd like.
How did you first hear about and get involved with CASA?
My mom was a CASA volunteer when I was growing up and once I understood what she did I always thought it would be something I would enjoy, and an organization that I could contribute to.
What is it like to be a CASA volunteer?
Being a CASA volunteer has been one of the most rewarding things I have ever done. I can't imagine not doing this for as long as I can. It is truly something worth doing. My cases have been enjoyable at times, sad at times, and even made me mad at times, but I have never regretted becoming a CASA volunteer.
What would you tell somebody considering becoming a CASA volunteer?
My advise to someone who is thinking about becoming a CASA is, just do it! You will make a difference. You will provide a voice to a child who does not have one. You will be forever remembered by that child as someone who cared about them. As a CASA volunteer you have a chance to make a huge, positive difference in a family's life. All you have to do is care.
What has surprised you the most about volunteering with CASA?
When I got my first case I wasn't necessarily surprised by the number of cases in the court system or the types of abuse and neglect I saw. I was most surprised by the amount of stress and mental anguish the children in these situations live with as well as what the foster families go through.
Have you had any cases that have really stuck out to you? If so, why?
One of my current cases has been my toughest so far. The children are spread out across 5 homes which can complicate the communication between them and myself, but the level of neglect they suffered is heart breaking. I am so grateful to the children's foster parents for stepping up and showing these children what love and parental devotion is. Foster families are true heroes!
What is the most gratifying/self-rewarding experience you have had as a CASA volunteer?
This past Christmas an attorney involved in one of my cases, and her family, wanted to help with Christmas presents for one of my families. She went all out. I had the privilege of delivering all the awesome presents to children who didn't think they would get much. When I went back to visit the family after Christmas it was the longest visit. They wanted to show me everything they had been given and I got to experience their gratefulness for their gifts. I still stay in contact with that family and run into them in town. Even though their case is resolved I know I will get to see and experience them grow and become adults.
What advice do you have for new volunteers?
When I was sworn in as a CASA volunteer I was excited. The night I got my first case I stayed up late and went back over everything we were given in class. I tried to remember all the acronyms for the different agencies and people I would meet. I was nervous about jumping into a child's life and making it worse. I called my mom the next day. I talked to her about how nervous and worried I was. Then my mom said, "Just care. Just care about the kid you are talking to." So my advice to anyone thinking about becoming an advocate...just care!
More CASA volunteers, like Ronny, are needed to advocate for children who enter the child welfare system. Volunteers to help ensure these children have the best opportunities to thrive. You can help. Volunteer today!