Wednesday, May 12, 2021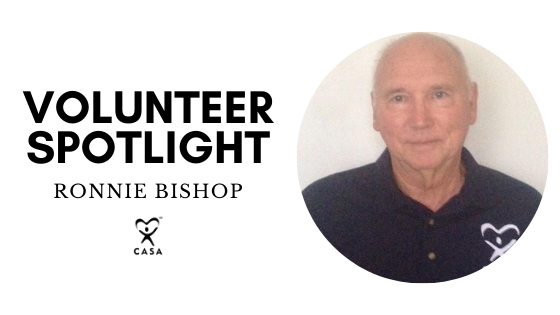 Retired from a full life and wonderful career, Ron Bishop was looking for a new way to give back to the community and to help others. He discovered CASA to be the perfect fit. Ron has been a volunteer with CASA for just over three years and has served on three cases, speaking up for the best interests of eight children. We had the chance to sit down with Ron and ask him some questions about his experiences as a CASA volunteer. Here is what he had to say.
Tell us a little more about yourself.
I come from a large family (10 brothers and sisters). We grew up poor, but surrounded by love. I finished high school, got married, worked full time and went to college part time. I received my Master's degree from the University of Arkansas. As a child growing up I worked in the cotton fields; chopping cotton, picking cotton, driving a tractor and later worked in a grocery store. After I got married I went to work in a factory while taking night classes. I ended my career 4 years ago, retiring as CEO of a National Healthcare Company. I enjoy spending time taking care of or little 5 acre place and working in our garden. I love the outdoors and spend as much time as possible outside trimming trees, cutting grass, working in the garden, or just sitting in the swing.
How did you first hear about and get involved with CASA?
After moving to Sallisaw, Rebecca and I became involved in the Chamber of Commerce. CASA representatives did a presentation at one of the Chamber luncheons. After the meeting was over I approached the CASA representatives to obtain more information. I began the screening process and was invited to attend training classes. I completed the classes and soon was assigned to my first case.
What is it like to be a volunteer?
Being a volunteer is very rewarding. It can be frustrating at times, but seeing the positive end results makes it all worth while.
What would you tell someone considering becoming a CASA volunteer?
I would tell them to go for it, but to expect some 'heartburn' along the way. It can be painful to see children in some of the situations that they are in. It is also rewarding to see families, especially the children, overcome obstacles and become a family again.
What has surprised you the most about volunteering with CASA?
Since becoming a CASA volunteer I have become more aware of the number of children that are in difficult situations. I never before realized that so many children are in need of help due to being abandoned, mistreated, or neglected.
Have you had any cases that have really stuck out to you? If so, why?
I have one case that involved 6 children, 3 boys, and 3 girls, ages 2 to 13. The children were separated in different foster homes, even in different towns. The mom had several obstacles to overcome and the dad was not available to be part of the process. The foster parents were great with the children, but the children missed each other. They were always asking about each other and sending messages back and forth. The mother worked diligently to get the training and the counseling she needed. As things improved, the siblings began visiting with the mother all at the same time, thus getting to see each other more. In the end the children were reunited with the mom and each other. It was a special day when they were all back together as a family unit. This case hit home to me. Being from a large family I could not imagine what it would have been like to have been separated from my brothers and sisters, or my mother and father when I was a child. I felt blessed to see these children back home together as a family unit.
What is the most gratifying/self-rewarding experience you've had as a volunteer?
The most rewarding experience I have had occurred recently at the Sallisaw Diamond Days Festival. As my wife and I were enjoying ourselves walking through the crowd, all of a sudden this little 11 year old young lady grabbed me, wrapping her arms around me with a big hug and calling my name. She seemed so excited to see me. We had not seen each other in over a year. She had to tell me how she was doing in school, that she missed me, that her brothers and sisters were all doing good, and that they all missed seeing me and talking with me. I am so happy to know the family is doing good and that the children are happy and healthy.
How have the children you have worked with impacted your life?
The children I have worked with are all different in their own way, but they are similar in that they needed someone to be there for them. I am glad that I can be that person to be there for them. I think of my 2 grandsons and what I want for them. Not the material things, but the love of their parents. The love of a family. I am reminded how lucky I was to have the family I grew up in.
What advice would you have for a new volunteer?
To give it your all. At this time in their lives, these kids need someone to care and to show that they care. Be that someone.
More CASA volunteers, like Ron, are needed to advocate for children who enter the child welfare system to help ensure they have the best opportunity to thrive. Can you help? Volunteer today.