Monday, Feb 11, 2019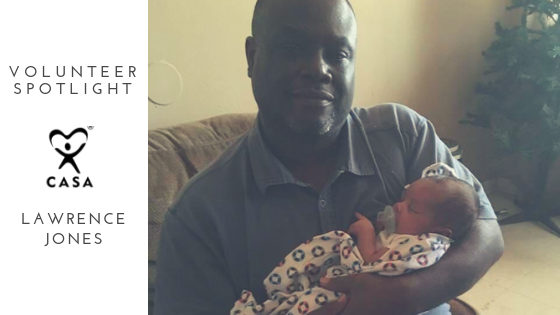 Lawrence Jones ran across CASA for Children when looking for an internship for his Master's Degree program. After learning more about the volunteer experience and the impact volunteers had on children, he knew it was something he wanted to do. As a CASA volunteer since 2008, Lawrence has volunteered on 20 cases and impacted the lives of over 30 children. We got a chance to ask Lawrence a few questions about himself and his experience as a CASA volunteer. Here is what he had to say.

Tell us a little more about yourself.
I have been married for 26 years. Together, my wife and I have twin boys and 5 grandchildren. I am an Army Veteran and retired from the VA. I spend a lot of time immersed in my roles as a grandfather and CASA volunteer, but love to play golf and go fishing whenever I have the chance. I am rarely serious and can always be heard cracking a joke and trying to make someone laugh.

What are your thoughts on being a CASA volunteer?
Being a CASA volunteer is like being a helping hand to the community. The help I am able to provide for a child or family is very satisfying. I don't really think of being a CASA volunteer as work. It is just something that I really enjoy doing.

What surprised you the most about volunteering with CASA?
The joy the children and parents both experience when you have an impact on their lives. I was also surprised to learn how many children are still in need of a CASA volunteer.

How have the children you have worked with impacted your life?
The children I have worked with have shown me that all children just want to be loved. They helped me to learn to hold my judgment and get to know the whole child before making assumptions based upon behavior.

What is the most gratifying/self-rewarding experience you have had as a volunteer?
Helping children that were in a dangerous situation get into a safe and loving environment and helping parents get the help they need to that they can be a better parent for their children.

What is your advice for a new volunteer or someone considering CASA?
Be yourself and do the best job you can. Always stand by your word. These children need consistency. If you say you are going to do something, make sure you do it, or explain to them why you are not able.