Monday, Jan 30, 2023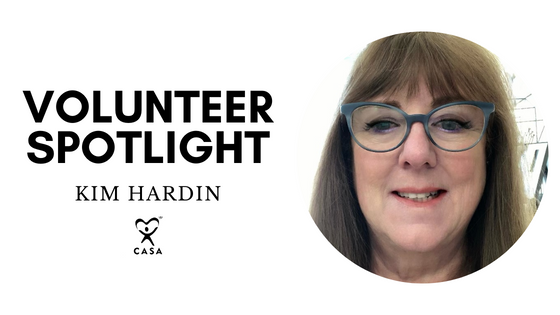 Kim Hardin has spent her lifetime serving the public through her career in retail, so it was no surprise when she decided to continue to serve in her retirement. Kim has been a CASA volunteer for just over a year, but in that short time she has served on four cases, advocating for the needs of 7 children. We had the chance to sit down with Kim to learn a little more about her, and what drives her as a volunteer. Here is what she had to say:
Tell us about yourself.
I grew up in Dallas, Texas. After high school, I attended college to study elementary education with a concentration in guidance and counseling. While working to help pay my tuition, I turned a part time job into a 40 year career in retail. Working with Walmart I had the unique opportunity to live in 9 states, and in Germany. I was a store manager, district manager, regional operations director, and regional human resources director all before I retired in 2011 due to an injury to my back. I am married to my college sweetheart. We have a son who lives in Dallas, Texas and two beautiful grandchildren, Avery and Emme.
How did you first hear about and get involved with CASA?
I had been considering ways I could give back to my community, and along came CASA. After seeing a post on Facebook I reached out to Jenny. I have gotten so much support from family and friends, CASA employees, and other volunteers.
What is it like to be a CASA volunteer?
I have a true sense of purpose as a CASA volunteer. I've cried tears of happiness and tears of sorrow. At the end of the day I feel like I am really making a difference in the lives of children.
What would you tell someone considering becoming a CASA volunteer?
If you feel a heart tug to help children but aren't certain how to go about it, please speak to a CASA representative and learn more. You will not regret it!
What has surprised you the most about volunteering with CASA?
My biggest surprise has been how resilient children are. Their capacity to love, to forgive, and to rise above adversity still surprises me everyday.
Have you had any cases that have really stuck out to you? If so, why?
I currently have a case I will never forget. Without going into much detail, the children came from an extremely neglectful situation. They landed in the perfect foster home, as if by divine appointment. The foster parents have been dedicated to getting the children the services they desperately need. They love and nurture them and have helped the children to feel safe. Watching the changes in these children has been an incredible experience.
What is the most gratifying/self-rewarding experience you've had as a volunteer?
To hear a non-verbal child run toward me saying "hi," while jumping up and down.
How have the children you have worked with impacted your life?
My eyes are wide open and aware that children in foster care often have parents that were in foster care as children themselves. This generational cycle has to stop. If I can be a part of stopping the cycle, these children I serve have a chance to grow up as functioning adults, able to make healthy, well thought out decisions for their children in a home filled with love.
What advice do you have for a new volunteer?
If you have a heart for the hurting and the wounded in spirit step up. We need you to help fight the good fight. You will have a great training and resources available to you. We welcome you!
More CASA volunteers, like Kim, are needed to advocate for children who enter the child welfare system. Volunteers who will help to ensure these children have the best opportunities to thrive. Are you ready to help? Volunteer today!