Thursday, Mar 11, 2021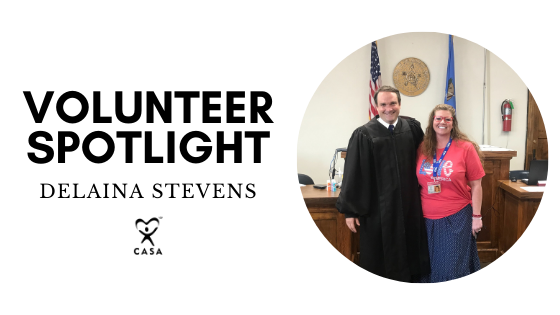 Delaina Stevens has only been a CASA volunteer for 1 year, but has already made a huge impact. As the first volunteer in the McIntosh county arm of our program, Delaina has served on 3 cases advocating for the best interests of the children she serves at all times. We got a chance to sit down and talk with Delaina and ask her a few questions about herself and her experiences as a CASA volunteer. Here is what she had to say.
Tell us a little more about yourself.
I have been married to my husband, Brad, for 20 years. We have a beautiful daughter named Meadow who is 11 years old. I love helping to support and build my community and spending time with my family!
How did you first hear about and get involved with CASA?
I was originally approached by a CASA program in another county about becoming a CASA volunteer. I loved the idea, but really wanted to volunteer in my local community. The McIntosh program was just getting started at that time and I was thrilled to be able to be the first volunteer to complete the training class and be sworn in as a McIntosh County CASA volunteer.
What is it like to be a volunteer?
It's fun at times. It's stressful at times. It's always on my mind.
What would you tell someone considering becoming a CASA volunteer?
Do it for the right reasons - think it through.
Have you had any cases that have really stuck out to you? If so, why?
They all stick out to me. I form a bond and relationship with the kiddos and both their foster and biological families.
What is the most gratifying/self-rewarding experience you've had as a CASA volunteer?
One of the children on my case drew a picture just for me. This just reminds me of how important I am to these children.
How have the children you have worked with impacted your life?
These children will be a part of my life for the rest of my days!
What advice would you have for a new CASA volunteer?
This is a HUGE responsibility - do not take it lightly. Pray, search your soul and make sure that you are dedicated to the children you serve!