Wednesday, Jun 2, 2021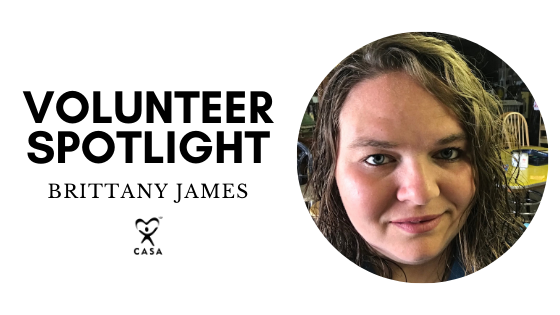 When Brittany James first came to CASA one year ago she had no idea the impact that she would have in the lives of the children she served - or the impact they would have in hers. Since starting with CASA in July of 2020 Brittany has served on 2 cases and advocated for the best interest and needs of the children she serves. We had an opportunity to sit down with Brittany and ask her a few questions about her experiences as a CASA volunteer. Here is what she had to say:

Tell us a little more about yourself.
My husband and I have been married for 11 years in November. We have three kids, ages 15, 9, and 5. Together we run an Excavation Service. I am pretty involved in my children's schools and love helping to run the Stop 2 Shop Roadhouse Antique Shop in Webbers Falls.

How did you first hear about and get involved with CASA?
I first heard about CASA through a friend at church and reached out to get involved. I have been volunteering for almost a year now.

What is it like to be a CASA volunteer?
It is truly rewarding! I have enjoyed meeting new people and learning how everything works.

What would you tell someone considering becoming a CASA volunteer?
Go for it! To be a voice for a child in need is something everyone should do!

What has surprised you the most about volunteering with CASA?
The relationships you gain with all the parties on your case.

Have you had any cases that have really stuck out to you? If so, why?
Hearing the non verbal child on one of my cases learn to talk. It was such a special feeling and a day I will never forget!

What is the most gratifying/self-rewarding experience you've had as a volunteer?
Just gaining the trust of the children and the parents.

How have the children you have worked with impacted your life?
They have become a part of me in a sense. I check on them often. I enjoy spending time with them and their families!

What advice would you have for a new volunteer?
Take everything one step at a time, don't be afraid to ask for help, and enjoy the special moments!

More CASA volunteers, like Brittany, are needed to advocate for children who enter the child welfare system to help ensure they have the best opportunity to thrive. Can you help? Volunteer today.