Tuesday, Feb 13, 2018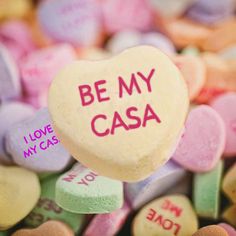 ---
Open Your Heart to a Child!
---
Valentine's can be a very special time of year. There are candies and chocolates, parties and presents and it seems like love can be found around every corner. While many children eagerly await candy and cards this Valentine's day, children in the child welfare system wait for something much more permanent - a loving home.
When children are removed from their homes due to evidence of abuse or neglect and placed in the child welfare system, they are frequently placed far away from their friends and family - forcing many of them to navigate the system on their own without a reliable adult presence to look out for them.
CASA volunteers strive to find loving homes for these children by guiding them through their time in foster care and speaking up for their best interests in court and other settings. These volunteers are everyday people using their voice to improve the life of a child.
When children in foster care don't have a steady adult to guide them, it's easy for them to get lost in the chaos of the overburdened child welfare system. CASA volunteers make sure this doesn't happen by putting the best interests of the children first and ensuring that their voices are heard.
Every child deserves to have a safe, enduring and loving home this Valentine's Day. Become a CASA volunteer and help each child get the happy ending they deserve.