Tuesday, Nov 12, 2019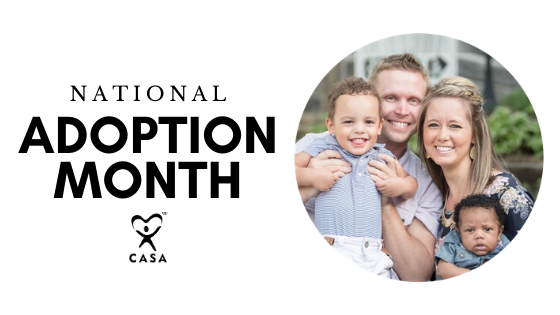 November is National Adoption Month and CASA for Children is working to inform the public of the urgent need for members of the community to support children in the foster care system.
On any given day there are over 500 children in Oklahoma waiting for adoption. CASA is spreading awareness this month and challenging more members of the community to step up to be a part of the solution through either adoption or by becoming a Court Appointed Special Advocate (CASA) volunteer.
There are so many children in foster care right here in our home towns who need and deserve a safe, stable place to call home. There are a variety of ways that you can support children during National Adoption Month. If fostering or adopting seems like too much of a commitment, you can still help children in care by becoming a CASA volunteer.
When children come into the foster care system they are taken away from the only life they have ever known. Many of these children will spend months, or even years, in multiple foster homes. Without the guidance, connection, and direction that family provides they face the risk of negative outcomes like homelessness, substance abuse, and incarceration.
Every child deserves a safe, loving home where they can be a kid. Our goal is to have every child partnered with a CASA volunteer and ultimately reunited with their family, or if that is not an option, adopted into a loving home where they can thrive.
CASA volunteers are everyday citizens from the community who are screened and trained then appointed by a judge to advocate for a child's best interest in court. Volunteers are designated to serve one child or sibling group and evaluate their well-being by getting to know them and speaking with any and all relevant contacts in their lives including foster parents, teachers, therapists, and more.
CASA volunteers work hard to develop a trusting relationship with the children they serve while collecting important information about their unique physical, emotional, and educational needs. They communicate their recommendations to the court in an effort to ensure children are set up for success both during and after their time in care.
As we observe National Adoption Month, consider becoming a CASA volunteer to ensure that children in foster care get the support they need and deserve; giving them a chance at a brighter future.
Want to learn more? Join us for an informational Coffee with CASA session on Friday, November 22nd, from 9-10 a.m. at The Break in Muskogee. This is a no-obligation opportunity to talk with CASA staff and volunteers about what it means to be a CASA volunteer and the process to get involved. No RSVP is necessary.
For more information contact Jenny Crosby at (918) 686-8199 or via email at jenny@casaok.org.