Tuesday, May 31, 2022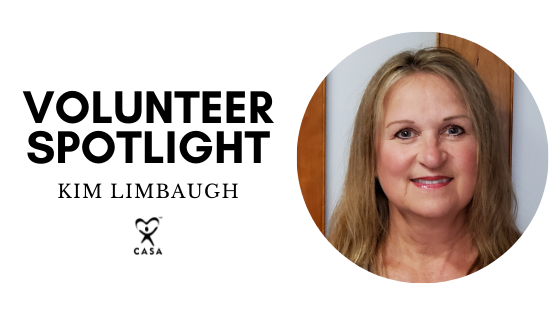 Kim Limbaugh is a person who cares deeply about her community. She loves big and wants to give back in any way that she can, so it was no surprise when she decided to become a CASA volunteer. Kim accepted her first case in June 2021 and has been a steady advocate for the two children she is serving. We had the opportunity to sit down with Kim to ask her a few questions about herself and her experiences as a CASA volunteer. Here is what she had to say.
Tell us about yourself.
I've been married to Carl for 20 years. We have a blended family with 7 children, 18 grandchildren, and 1 great-grandchild. I worked for Southwestern Bell/AT&T/Lucent/Avaya for 31 years as the HR Manager and then an Operations Manager. Along with CASA, I also volunteer for the McIntosh County Election Board. My husband and I are both retired now and we enjoy traveling in our motorhome with our 2 dogs, playing golf, and enjoying lake activities. Our goal is to enjoy life to the fullest.
How did you first hear about and get involved with CASA?
I actually saw a Facebook post about CASA. Once I learned what CASA was all about, I became very intrigued as I have an adopted brother who came to live with us after being moved to multiple locations over a short period of time due to his older sibling not being able to adapt.
What is it like to be a CASA volunteer?
There are a lot of emotions that tie into being a CASA volunteer. There are times that I feel like I'm really making a difference and other times that feel extremely challenging. It can be overwhelming but I do believe CASA can bring a lot of things to the table that might otherwise be overlooked. This is important for the children.
What would you tell someone considering becoming a CASA volunteer?
CASA is an organization that is desperately needed for the children. As volunteers, we can make a difference.
What has surprised you the most about volunteering with CASA?
Until you get involved, it's hard to fathom what some of these children/families are going through.
Have you had any cases that have really stuck out to you? If so, why?
My one and only case is one I'll always remember. There are so many moving parts. The children have been in multiple foster homes and are separated, there is a large age gap between the siblings, and parents/grandparents are not always doing what they need to do to get their children back. These things make having a CASA on the case even more important.
What is the most gratifying/self-rewarding experience you've had as a volunteer?
Seeing the child I'm advocating for - for the first time since I took the case - placed in a home where she seems to be really happy. She's been moved at least nine times over the last year.
How have the children you have worked with impacted your life?
I enjoy visiting with both of the children. They're in separate homes and 10 years apart in age. It's like working 2 different cases. They both carry a space in my heart, however, it can be gut wrenching when I have to make recommendations that may not bring immediate satisfaction to the children, but in the long run it is what is best.
What advice do you have for a new volunteer?
When you volunteer you have to be ready to give it your all and always remember, in the end, you can make a difference.
More CASA volunteers, like Kim, are needed to advocate for children who enter the child welfare system. Volunteers who will help to ensure these children have the best opportunities to thrive. Are you ready to help? Volunteer today!