Thursday, Jun 30, 2022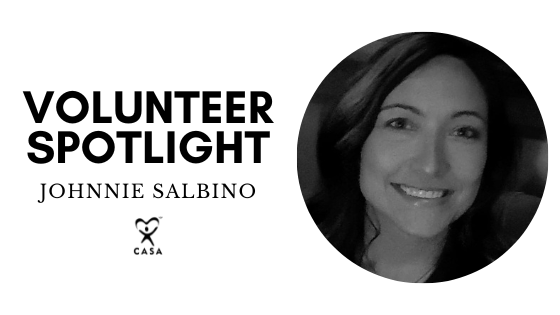 Johnnie Salbino has been a CASA volunteer since April 2019. In her 3 years as a volunteer, Johnnie has served on 5 cases and had the opportunity to advocate for the best interests and needs of 13 children. We had the opportunity to sit down with Johnnie to ask her a few questions about herself and her experiences as a CASA volunteer. Here is what she had to say.
Tell us about yourself.
I have been married for 18 years and have two children (a son and daughter). I am a United States Postal Worker and have lived in Oklahoma my entire life. I love spending time with my family and friends, camping, and listening to podcasts about crime and behaviors. I also enjoy visiting and exploring new places, learning new languages, and reading.
How did you first hear about and get involved with CASA?
I first heard about CASA volunteering from a Facebook friend. I was so in awe with what she was doing and I felt it in my heart that I should be volunteering too. Almost a year later I was talking with a co-worker who had previously volunteered. As she told me her story I knew I was ready to begin. I jumped in and filled out the application.
What is it like to be a CASA volunteer?
It has been a great experience. I have learned a lot about the court system. I have a long way to go, but the great support I have from CASA staff and DHS has made it easier to navigate my way through the process.
What would you tell someone considering becoming a CASA volunteer?
It is rewarding. You get to learn about the laws for children in Oklahoma and you get to meet some really great people.
What has surprised you the most about volunteering with CASA?
Being a CASA volunteer has made me more aware of all the programs, support systems, and help available for every family that may need help.
How have the children you have worked with impacted your life?
The children have been amazing to watch - growing and learning from their positive environments. I am growing and learning with them. I get to share my experiences with others to hopefully help someone. I love to be able to say that I am a CASA volunteer.
What advice do you have for a new volunteer?
I do find it important to do some additional training each month to keep informed and up to date on new information about the court process and how I can help the children I serve.
More CASA volunteers, like Johnnie, are needed to advocate for children who enter the child welfare system. Volunteers who will help to ensure these children have the best opportunities to thrive. Are you ready to help? Volunteer today!