Tuesday, Jul 13, 2021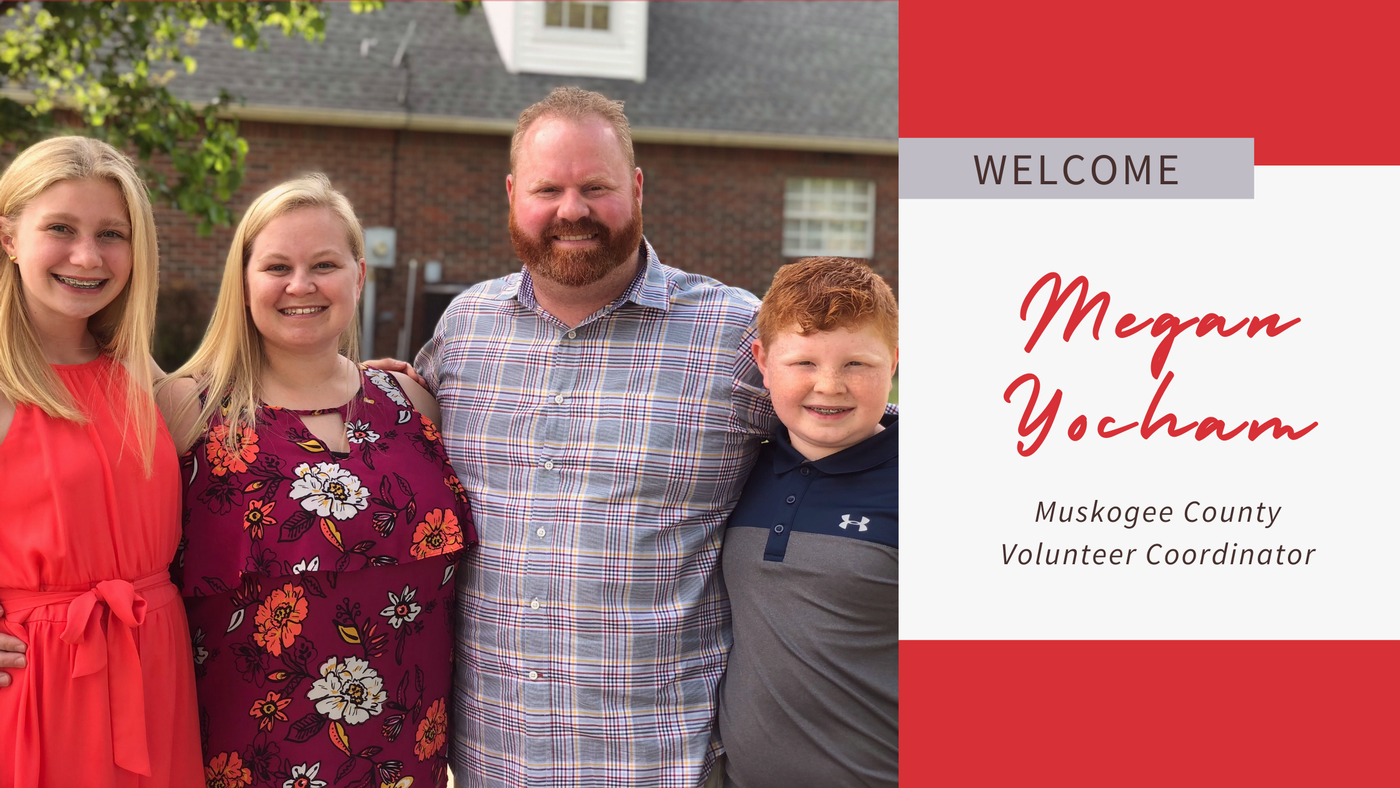 CASA for Children is excited to welcome our newest staff member, Megan Yocham. Megan was hired as a Volunteer Coordinator for the program and will be working with volunteer advocates serving children in Muskogee County.
Megan received her Associates Degree in Psychology from Connors State College in 2018. She comes to CASA with a great deal of experience in the education and mental health industries where she worked as an Teacher's Assistant and Office Manager for many years.
Megan first joined the CASA program in 2020 as a volunteer advocate. She was led to CASA by a desire to be a voice for children in her community. Growing up in the foster care system, Megan knows all to well how important it is for children to have a voice. "I wish there would have been someone there to speak for me," said Megan. "That is why I chose to be that voice for children in my community."
Megan has been married to her husband, Derek, for 15 years. Together they have 2 children, RayLeigh (13) and Ryder (9). She loves being a mom and being involved in all that her kids do. From competitive cheer with her daughter to sports and outdoor activities with her son Megan spends as much time as she can with her husband and children. The family loves their 1 year old Golden Retriever, Gus, who is working to become a therapy dog.
Welcome, Megan! We are excited to see all the great things you will do for the volunteers you serve!
---
Getting to Know Megan
Name: Megan Yocham
Spouse: Derek Yocham
Children: RayLeigh (13), Ryder (9)
Hobbies: Swimming and reading.
Tell us more about yourself: I have been honored to volunteer at my church for many years. Whether it be in the nursery or with the Smart School summer program, there is always an opportunity to give a helping hand. My husband and I are former foster parents and provided both emergency and long term placements for many children over the course of several years. My daughter is heavily involved in competitive cheer. She is amazing at encouraging others, especially her little brother. My son loves to hunt, fish, play basketball, and make others laugh. When our children are grown and start their own lives, Derek and I have a retirement goal of moving to Florida and working at Disney World.
What is one thing people would be surprised to learn about you? I dislike ketchup so much it is not allowed in my house!
What led you to become a CASA volunteer and then staff? I spent nine years of my childhood in foster care. I wish there would have been someone to give me a voice. I chose to be that voice for children in my community by volunteering for CASA. Coming on as staff with CASA allows me to advocate for more children in a different capacity. I love that my job is now to serve children every day.
What do you love the most about being involved with CASA? I love the people! As a volunteer I was able to connect with families and children. Now as an employee I'll get to assist volunteers with their journey helping children. It is amazing to watch and join all kinds of people come together with one common goal.