Thursday, Feb 24, 2022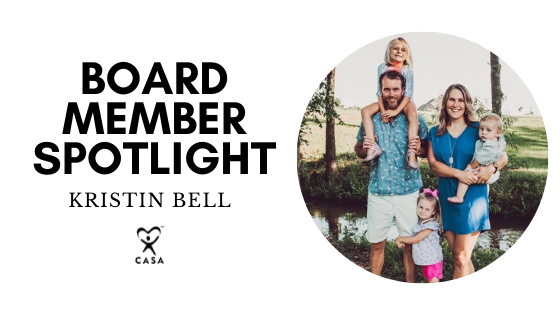 Meet Kristin!

Kristin Bell is a long time Coweta resident, Real Estate Agent, and CASA Board Member. In the just over 4 years that Kristin has been on the CASA Board of Directors she has devoted countless hours to the development and growth of the program. We had an opportunity to sit down with Kristin to learn a little more about her and her involvement with the CASA program. Here is what she had to say:

Tell us a little more about your family.
I have been married to my husband, Ron, for almost 11 years. We have one incredible son, Palmer (3) and three beautiful daughters; Ricki (8), Remi (5), and our newest addition Ramsi (2 weeks). Our family loves getting out in nature, camping, and just spending time together in any way that we can.

Tell us about your career outside of CASA.
I am a Real Estate Agent with Keller Williams Realty in Coweta. I love helping people create new chapters in their lives. Buying and selling a home is a huge decision and for my customers to allow me to be a part of it is truly rewarding.

Do you have any hobbies or interests?
Spending time with my family. I love wine, and just enjoy the calmness that comes with life. My favorite way to spend a weekend is swimming with the kiddos and a dinner date with my hunk of a husband!

What is your favorite childhood memory?
Spending time with my siblings. My brother, Michael and sister, Jenni. The older I get the more I cherish those times.

What led you to join the CASA Board of Directors?
Karen Holmes approached me about this amazing organization about 4 years ago. I love people and love kids so I felt it just made sense. I have met so many incredible individuals and learned so much along the way about CASA. I am blessed to be a part of something so great.

What do you love most about being involved with CASA?
I love the amazing group of individuals that make CASA what it is. They don't complain. They just show up every day and take care of these kids. It takes a real hero to put your own feelings and emotions aside to help a child. This group doesn't do it to be recognized, but simply to make a change.

Volunteers and board members, like Kristin, are the heart of CASA. We are changing lives every single day and it is all thanks to you. Are you ready to join the cause? Volunteer today!