Thursday, Apr 12, 2018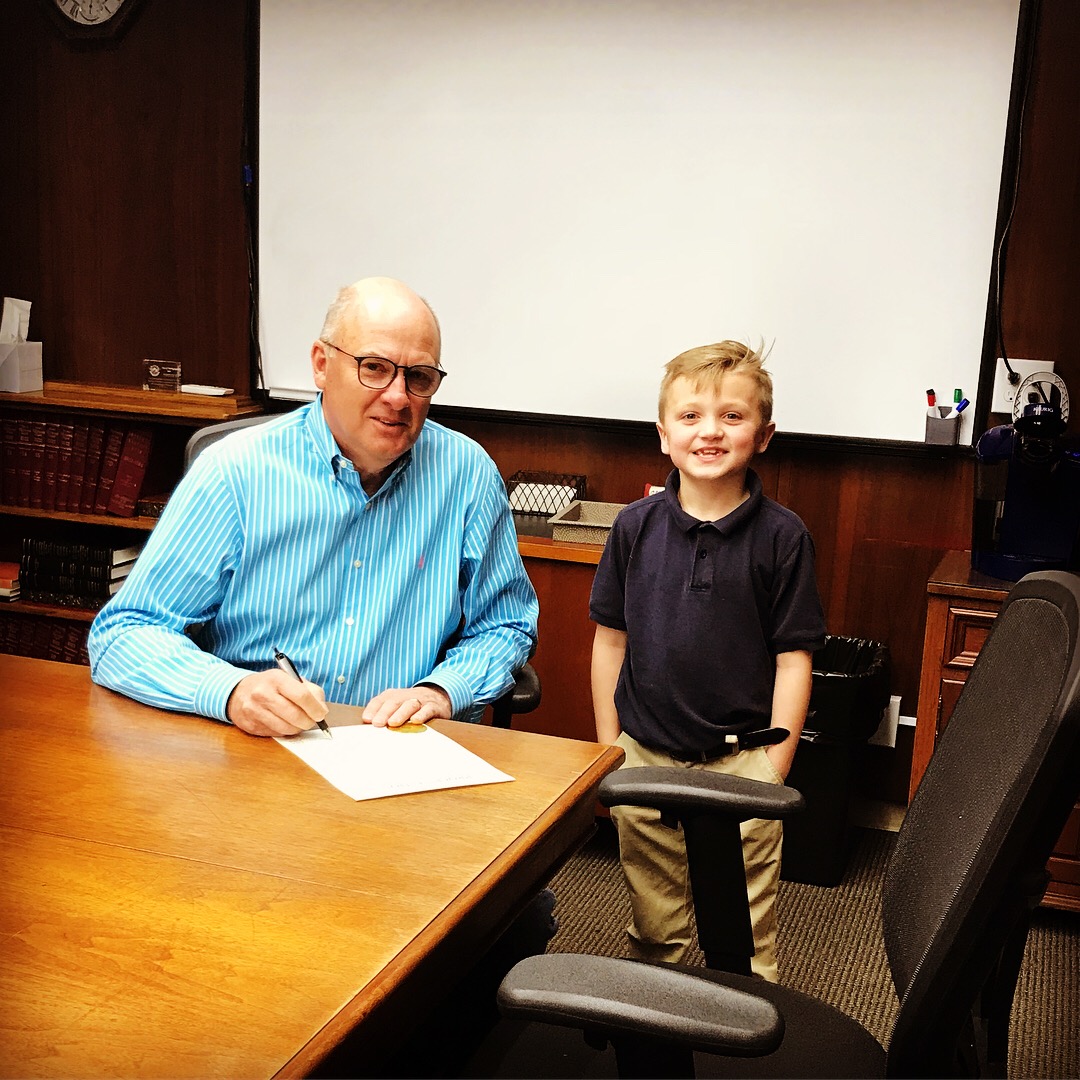 Mayor Bob Coburn and Gray McQueen sign the Child Abuse Proclamation
---
April is Child Abuse Prevention Month
---
Mayor Bob Coburn signed a proclamation on Wednesday, April 11th, declaring April 2018 as Child Abuse Prevention Month in Muskogee.
Child abuse and neglect is a serious problem affecting every segment of our community, and finding solutions require input and actions from everyone in our community.
In honor of National Child Abuse Prevention Month CASA for Children, Inc. and Kids' Space Child Advocacy Center are issuing a call to action for residents and businesses to stand against child abuse and take action to support children who have been abused or neglected.
At any given time, there are nearly 300 Muskogee County children in juvenile court due to abuse, neglect, or dependency. These children come into the child welfare system through no fault of their own and need support and advocacy while their case is being heard.
The needs of Muskogee County children coming into care are more complicated than ever before, and living in foster care can be chaotic. Every child deserves the support of a caring, consistent adult to help them heal and thrive.
Throughout the month of April, CASA and Kids' Space are calling on members of the community to help raise awareness of Child Abuse Prevention Month. Without intervention, the odds are stacked against children in foster care who have suffered from abuse and neglect.
Everyone in the community should become more aware of child abuse prevention and consider helping parents raise their children in a safe, nurturing environment. There is a role that each of us can play in child abuse prevention. Babysitting, or simply taking the time to listen to a parent in need, can make a great difference in the lives of both a parent and a child.
In honor of Child Abuse Prevention Month CASA and Kids' Space will be hosting a "Squeeze the Day to Stop Child Abuse Lemonade Stand Contest on April 20th from 4:30 to 6:30. Children of all ages are welcome to participate in the contest free of charge. Teams of up to four people can register online at Eventbrite.com. There will be a $100 gift card given to the team with the best tasting lemonade and most creative stand that incorporates the child abuse prevention theme. For more information contact CASA for Children at (918) 686-8199 or the Kids' Space Child Advocacy Center at (918) 682-4204.