Thursday, Dec 14, 2017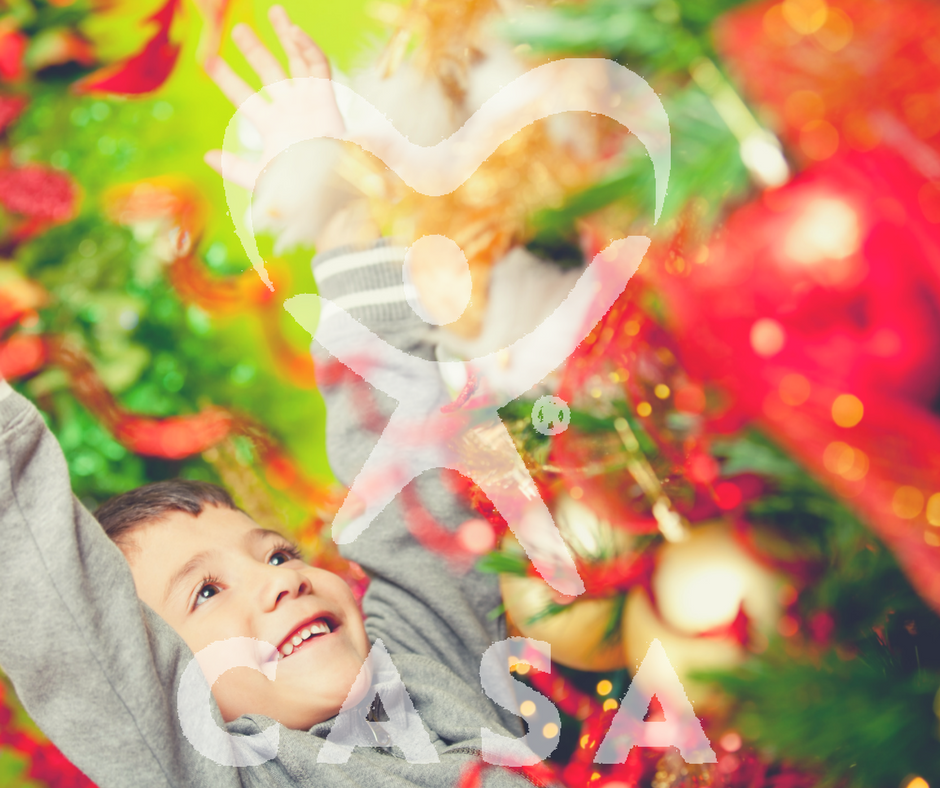 ---
Help Foster Children Find Homes for the Holidays
---
December is a month full of fun holiday celebrations and traditions for loved ones to enjoy together. However, there are many children in the foster care system across Oklahoma that do not have the same opportunities to experience a joyful holiday season.
Due to circumstances that are no fault of their own, these children have been removed from their homes and placed in the child welfare system, many times far from everyone they know and love. This holiday season, CASA urges you to be mindful of all the children in foster care who are waiting to be adopted or reunited with their families.
December is meant to be a festive time to spend with your family. Without the opportunity to share the holidays with the loved ones in their lives, children in foster care are deprived of precious memories that make the holiday season so special.
CASA is challenging more members of the community to become a part of the solution by becoming a Court Appointed Special Advocate (CASA) volunteer. CASA volunteers get to know the child and provide a voice for them in court, standing by their side to make sure they do not have to face an overburdened system alone.
Sam's Story.
As the oldest of three children raised in a neglectful home with a drug-addicted mother, 11-year-old Sam and his siblings were removed from their mother and separated.
Sam's brother and sister eventually settled into the home of an appropriate relative, but because of Sam's behaviors in foster care, the relative felt that they would not be able to meet his needs. Thus, Sam was left to languish in care.
Luckily, Sam had a CASA volunteer who never gave up on him.
She knew that Sam's father had not been involved in his life for many years. However, despite his mother's harsh words about his father, Sam always spoke of his dad in a very positive way – so she decided to locate him.
Sam's father told a very different story, explaining that he had tried to maintain contact with Sam, but his mother often made it impossible to locate them. He was excited to hear that Sam wanted to see him, and they quickly arranged a meeting.
Today, Sam lives with his father and they have a wonderful, healthy relationship; and he regularly visits his brother and sister. Thanks to his CASA volunteer's dedication and advocacy, Sam gets to spend the holidays creating new, happy memories in his forever home.
Stories like these are the reason why CASA volunteers are so imperative in the life of a foster child. They need someone who can look out for their best interests and ensure they end up in a safe, loving home.
During the holiday season, children are especially vulnerable and hopeful to be a part of a family. Each year, more and more children enter the foster care system and don't get the opportunity to spend the holiday season baking, opening presents and participating in other family traditions.
We need more members of the community to step up and get involved. Whether you become a CASA volunteer, a foster parent or provide support to a local foster family, you can make a difference this holiday season.
There is an urgent need for volunteers to offer foster children a consistent person in their life that they can trust and rely on. Every child in foster care needs someone to support them through this difficult time. They need a CASA (Court Appointed Special Advocate) volunteer to be by their side to help them move through the foster care system as quickly as possible, and into safe, permanent homes where they can spend the holidays creating happy memories.
Consider joining the movement and becoming a CASA volunteer.