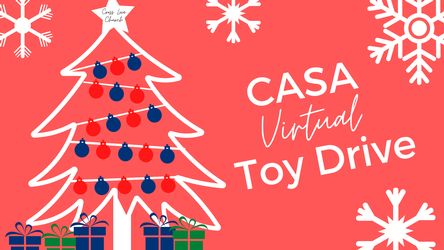 The holidays are a great time to think about ways to give back. We invite you to join CASA for Children's first every Virtual Holiday Toy Drive and provide a little cheer to a child in foster care.
Our goal: To collect 100 $30 gift cards by December 31st.
How can you help? Donate to the toy drive today.
Donate online by entering the amount you wish to donate below. Check out via PayPal to submit your donation with either a Credit Card or PayPal account.
Donation Matching!!
Cross Love Church in Sallisaw will match every $1 you donate with $2. That means your $10 donation could easily become $30!
I would like to donate...
Enter the dollar amount you wish to donate below.